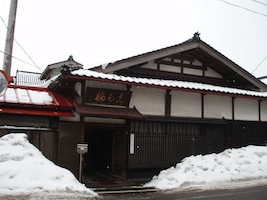 サケネットが扱う蔵の中でも特に古い歴史を持つ蔵の一つです。特に目立つ特徴がある訳ではなく、ごく普通に生活の中にとけ込むような酒造りをモットーとしています。冬の寒さが厳しい地域の地酒蔵らしく、羽前白梅の燗酒はやわらかくゆっくりと体にしみ入り、やさしくゆっくりと体を温めてくれます。
[ Please wait for the English. ]

When was your brewery established?
1596

What is your annual output?
400 koku or 72,000 litres

Including the Tōji (Master brewer) how many brewers do you have?
6

What is your emphasis in brewing Sake?
We place special emphasis on the initial treatment of the raw materials, especially the steaming of the rice.
In 100 words or less tell us what is Uzenshiraume's appeal?
Getting back to the basics of Sake brewing. We make a small amount of Sake with a lot of care, allowing it to ferment slowly at low temperatures into a Sake that will be ready in autumn, is crisp and refreshing at room temp but really comes alive when warmed. Sake that you won't get tired of and has a good balance between aroma and the flavours of rice. Sake that is comfortable and relaxing.
Which Sake, from Uzenshiraume's line up do you recommend?
Uzen-Shiraume Junmai-Ginjō Tawara-yuki

How would you drink this Sake and what kinds of food does it go with?
Cheeses, cheese dishes.