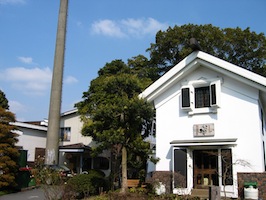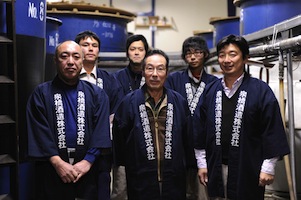 Izumibashi is a brewery in Kanagawa pref. At this brewery they are equally as passionate about rice farming as they are about Sake-brewing. The summer months are spent working on the rice fields, and winter months making Sake with the rice they grew in summer. They believe in sustaining and supporting both the agricultural industry as well as the Sake industry. They believe in organic farming and are always working towards using less chemicals and pesticides.

横浜まで電車で30分とは思えないほどののどかな水田地帯に泉橋酒造はあります。地元の米にこだわり、そして自然にやさしい米作りにこだわる泉橋酒造の蔵元橋場友一氏はいつも、お酒はもちろんですがそれ以上に米造りについて熱心にお話ししてくださいます。橋場氏がいつも口にする「醸は農なり」と言う言葉、酒造りは農業の一部であり酒は農業製品である。あたりまえの事ですが、昨今のブランド志向に流されて見落としてしまいがちです。しかしながら海老名と言う土地柄でしょうか、やはり泉橋のお酒は洗練された良い意味で粋な酒に感じられます。

When was your brewery established?
1857

What is your annual output?
700 koku or 126,000 litres

Including the Tōji (Master brewer) how many brewers do you have?
5

What is your emphasis in brewing Sake?
To be meticulous with our Kōji making, and create a robust Sake through complete fermentation.
In 100 words or less tell us what is Izumibashi's appeal?
We believe in "Sake making begins with Rice making." At our brewery the Sake making process begins with planting the rice, polishing the rice, brewing, and finally bottling.
With regards to rice, we form study groups with local farmers to seek ways to reduce the use of chemicals and create healthier rice farming.
Rice polishing- we are incorporating polishing methods and ratios that are best suited to the type of Sake and the condition of the rice harvested.
Brewing- our goal is to produce Sakes that "can be enjoyed as it ages." "Enjoyed with meals." "Dry Sake that you'll keep coming back to".
We are proud to say that we control every step of the process; from the time the rice seed is planted in the ground till the finished bottle of Sake is shipped off to the customer.
Which Sake, from Izumibashi's line up do you recommend?
Megumi Ebinakōchi

How would you drink this Sake and what kinds of food does it go with?
It goes well with both meat and fish, e.g. steaks and oysters.